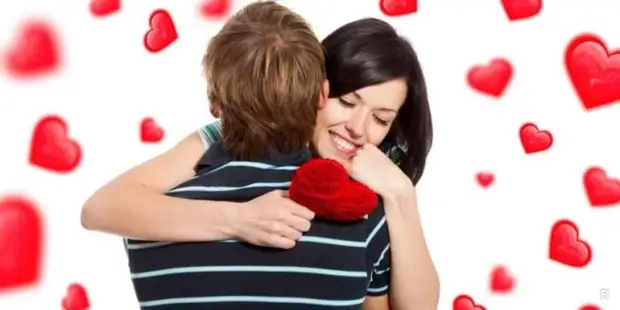 Анастасия Вишинська
14 февраля весь мир отпраздновал День Святого Валентина, более известный как День всех влюбленных. Праздник носит исключительно светский характер и широко отмечается во всем мире, но католической церковью осуждается, хотя и имеет церковные корни. Особенность этого года – волна рассказов о том, что святой Валентин тайно венчал геев – римских легионеров, а потому это «чужая нам дата и чуждый святой», хотя святым Валентин признали задолго до раскола христианской церкви на западную (католики) и восточную (православные) ветви.
Святой Валентин гейский праздник, на самом деле венчал голубых мужчин: кем был покровитель всех влюбленных
Римского святого третьего века, которого считают покровителем всех влюбленных, называют Святым Валентином. В истории об этой личности практически нет информации, что стало причиной появления разных слухов, касающихся этой персоны, как поведало издание rsute.ru. Есть историки, которые считают, что Святой Валентин – это сразу два человека. Папа римский включил его имя в список уважаемых людьми, о деяниях которых известно только Господу.
Разбираясь, кто такой Святой Валентин, стоит отметить, что в некоторых источниках можно найти описание стразу трех святых: один был священником, второй – епископом, а о третьем известно очень мало и, судя по косвенным данным, он погиб в мучениях в африканской провинции Рима. Некая схожесть в легендах, касающихся двух первых Валентинов, наталкивает многих людей на мысль, что они были представлением одного и того же человека.
Святой Валентин гейский праздник, на самом деле венчал голубых мужчин: чем он был известен
Чаще, размышляя о покровителе всех влюбленных, люди указывают на епископа Валентина, который родился в городе Тернии. Есть много противоречивых легенд об этой личности.
Есть свидетельства, что Святой Валентин покровитель влюбленных, когда еще был молодым человеком, оказывал поддержку людям, например, учил их проявлять свои чувства и становиться счастливыми. Помогал он писать письма с признаниями, мирил людей и дарил супругам цветы и подарки.
Святой Валентин венчал мужчин и женщин, но, согласно легендам, император Юлий Клавдий ІІ не разрешал солдатам влюбляться и жениться, но епископ нарушал его запрет.
Святой был отправлен в тюрьму и там он влюбился в слепую дочку собственного палача и помог ей исцелиться. Есть свидетельства, что сам палач попросил епископа избавить дочь от болезни, и она потом влюбилась в своего спасителя. Продолжая узнавать историю – кто такой он Святой Валентин, стоит упомянуть такой интересный факт, что перед казнью он передал любимой записку с подписью «Твой Валентин». Считается, что от сюда и пошли «валентинки».
День казни совпал с римским праздником в честь богини любви Юноны. В Риме этот день считали началом весны.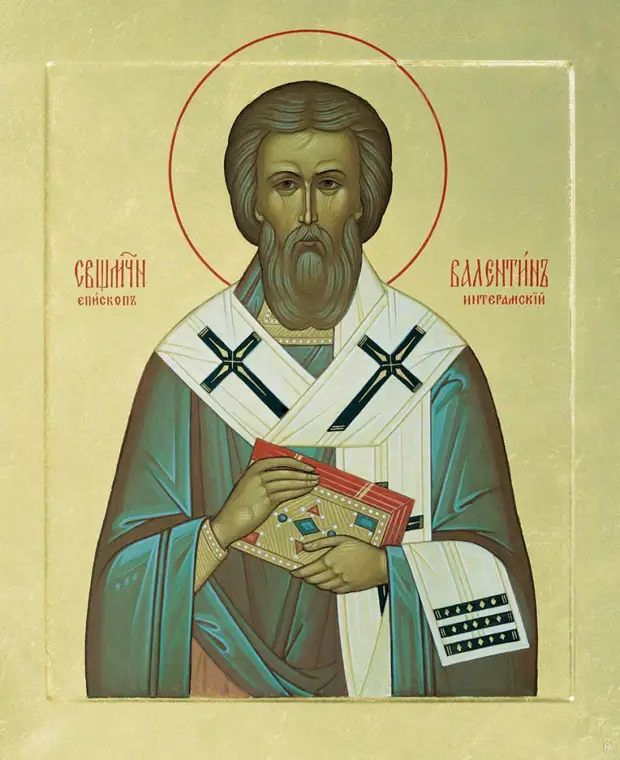 Как уже было сказано, из-за недостаточного количества информации, возникли разные слухи. К ним можно отнести и то, что Святой Валентин гей. Такой слух появился из-за того, что якобы император Клавдий II выдал приказ, что мужчины, годные для военной службы, не могут жениться между собой, поскольку это негативно скажется на боевом духе армии. Епископ, который и сам был гомосексуалистом, нарушил приказ и венчал парней друг с другом, за что он и был казнен.
Правда о Святом Валентине указывает, что он был гетеро ориентации и интерпретация закона императора, просто фантазия. На самом деле Клавдий был реформатором, который сделал римскую армию сильной и регулярной. Он говорил о том, что воины не должны быть женаты, так как они будут бояться идти в бой, чтобы семья не потеряла кормильца. Поскольку святой благословлял христианские ценности, для него брак был священным, и он проводил службы для заключения брака, поэтому вопрос, касающийся того, кого венчал Святой Валентин, не относится к гомосексуальным парам.
Понравилась статья? Подпишитесь на канал, чтобы быть в курсе самых интересных материалов
Подписаться
Что известно о 14 февраля и действительно ли Валентин венчал геев?
Фото: ru.wikipedia.org
Откуда пошел этот праздник, существовал ли Валентин и кого он женил? Ответы на все эти вопросы – в нашем материале
14 февраля отмечают во многих странах мира, и есть мнение, что делают это уже на протяжении 16 веков, а это срок немаленький. Чем же так понравился людям День влюбленных и с какой историей он связан?
1
Как и когда появился День святого Валентина?
Считается, что праздник появился благодаря одному священнику Валентину, который жил примерно в 269 году в Римской империи во времена правления императора Клавдия II. Как пишет портал calend.ru, военачальник римской армии заметил, что семейные мужчины не особо заинтересованы в армейской службе, а так как легионеры были нужны, людям просто запретили жениться. И вроде как именно Валентин стал тем священником, который, несмотря на указ правительства, начал венчать влюбленных. Когда это раскрылось, Валентина приговорили к казни. Но драматичность истории заключалась еще и в том, что сам Валентин был влюблен в дочь тюремщика и перед смертью отправил ей признательное письмо с подписью «твой Валентин» (так, видимо, появились валентинки).
После католическая церковь канонизировала Валентина, и в 496 году римский Папа Геласиус объявил 14 февраля днем нового святого. Правда, спустя какое-то время имя Валентина все-таки вычеркнули из литургического календаря католической церкви, так как сведения о нем были слишком противоречивы.
2
Кем был священник Валентин?
Имя Валентин носят несколько христианских мучеников, но о каждом из них практически ничего не известно. Так что точно определить, кем же был реальный священник Валентин и был ли он вообще, невозможно. 
По данным «Википедии», есть упоминание о римском священнике Валентине, которого обезглавили примерно в 269 году. Есть также история о Валентине – епископе Интерамы, которого тоже казнили, но за обращение в христианство сына градоначальника. Есть еще третий мученик с таким же именем, который пострадал за веру в Римской провинции Африка. 
В итоге многие истории сходятся к одному – Валентина казнили, только причины называются разные: отказался отрекаться от Христа, проповедовал, венчал влюбленных и даже исцелял людей.
Кстати, на обладание мощами святого Валентина претендуют сразу несколько соборов по всему миру.
3
А правда ли Валентин венчал людей нетрадиционной ориентации?
Есть еще одна версия появления праздника: Валентин не просто венчал влюбленных, он связывал узами брака людей нетрадиционной ориентации, чего кроме него никто делать не хотел.
Как ни странно, у этой версии есть свое историческое подтверждение, правда, с влюбленными и Валентином это никак не связано. Как пишет деловая газета «Взгляд», в Византийской церкви был обряд под названием «побратимство» – благословение дружественных союзов людей одного пола, обычно мужчин. Было это и в русской церкви. Обряд носил скорее политический характер и помогал скрепить союзничество, например, к такому прибегали Александр Невский и сын Батыя Сартак. Не хотим никого обидеть, но, возможно, обрядом этим пользовались и люди нетрадиционной ориентации. С течением времени надобность такого скрепления отношений отпала.
4
Что не так с легендой о 14 февраля?
На самом деле, если углубиться в историю, то станет ясно, что легенда о Валентине, венчавшем влюбленных, появилась только в 1260 году в собрании христианских легенд и занимательных житий святых «Золотая легенда», над которым работал монах-доминиканец Иаков Ворагинский. История стала очень популярной, но при римском императоре Клавдии II (правил в 268 — 270 годах) христиан преследовали и не жаловали, и сложно поверить в то, что язычники римляне обращались за заключением брака к христианскому священнику. 
Есть еще версия, что 14 февраля придумали для того, чтобы вытеснить римский языческий праздник, посвященный любви и рождению детей, и было это в 494 году. Эта версия выглядит намного правдоподобнее, но официальных подтверждений этому нет.
Праздник гомосексуалистов? Правда о Дне Святого Валентина
14:20 14.02.2021

31413 просмотров
Фото: www.rg.ru
Уже несколько лет подряд в преддверии дня всех влюбленных, в различных интернет-пабликах распространение получает, якобы, «настоящая» история праздника. По версии интернет-историков, 14 февраля посвящен священнику Валентину, который во времена правления императора Клавдия второго венчал между собой римских воинов, несмотря на запрет однополой любви.
Все это фейк, говорят настоящие историки. По одной из самых распространенных версий происхождения праздника, священник Валентин, который венчал легионеров в середине третьего века нашей эры реален. И, действительно, это было во время правления Клавдия. Вот только гомосексуальности в этих действиях не было. Запрет на свадьбы в римской армии, скорее всего, существовал, но речь шла о традиционном браке между мужчиной и женщиной.
Так что сетевая история с элементами садомии — очередной вброс фейкоделов, который так охотно подхватывают россияне.

Подпишитесь и читайте Новости Сургута в
ленте Дзен
и в нашем
телеграм-канале!

НАВЕРХ
День святого Валентина 14 февраля считается праздником всех влюбленных. По одной из легенд, святой Валентин был священником, который тайно женил влюбленные пары. Есть и скандальная версия, связанная с однополыми браками. Рассказываем, кто такой святой Валентин и почему католическая церковь отменила праздник святого Валентина 14 февраля.
Почему День святого Валентина считается праздником влюбленных?
Вокруг Дня святого Валентина 14 февраля есть несколько легенд. Согласно одной из них, в III веке нашей эры римский император Клавдий II, чтобы мужчины лучше воевали и их не обременяла семья, запретил жениться. А святой Валентин, христианский священник, тайком женил влюбленных.
Когда об этом стало известно властям, Валентина кинули в тюрьму. Там он познакомился с дочерью тюремщика, влюбился и перед смертью написал записку с признанием. А казнили его якобы 14 февраля 269 года,
Известны и более «экзотические» версии об истории праздника. Например, что святой Валентин тайно сочетал браком римских легионеров-мужчин.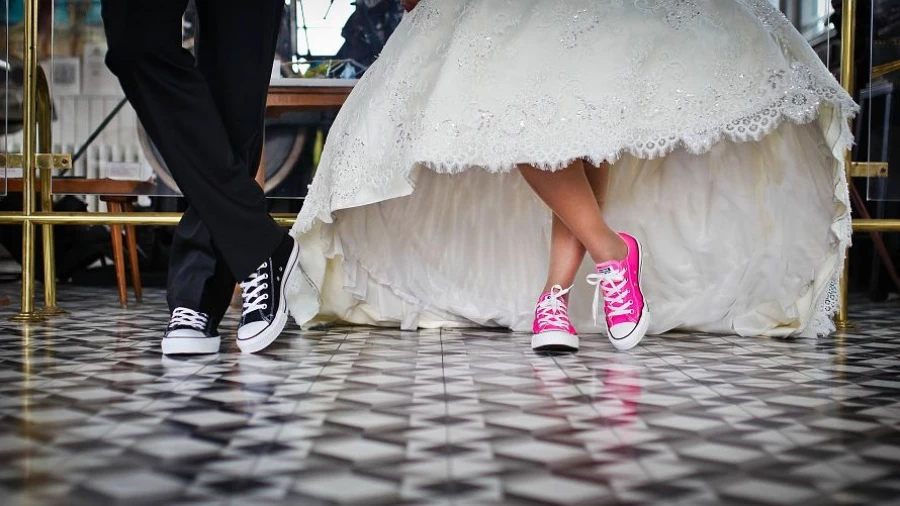 Пара. Свадьба.
СС0
Кто такой святой Валентин в католической церкви?
Согласно римским мартирологам, на заре христианства за веру умерли трое мучеников с именем Валентин. Один из них погиб в Карфагене с группой единоверцев. Второй был епископом Интерамны, его казнили во времена гонений на христиан. Третьего мученика, пресвитера Валентина, обезглавили.
С 14 февраля соотносят епископа и пресвитера Валентина.
Информации об этих святых очень мало. Однако в имеющейся нет и намека на любую романтическую составляющую.
В православии этих святых почитают в другие даты: память епископа Валентина — 12 августа, а пресвитера — 10 июля.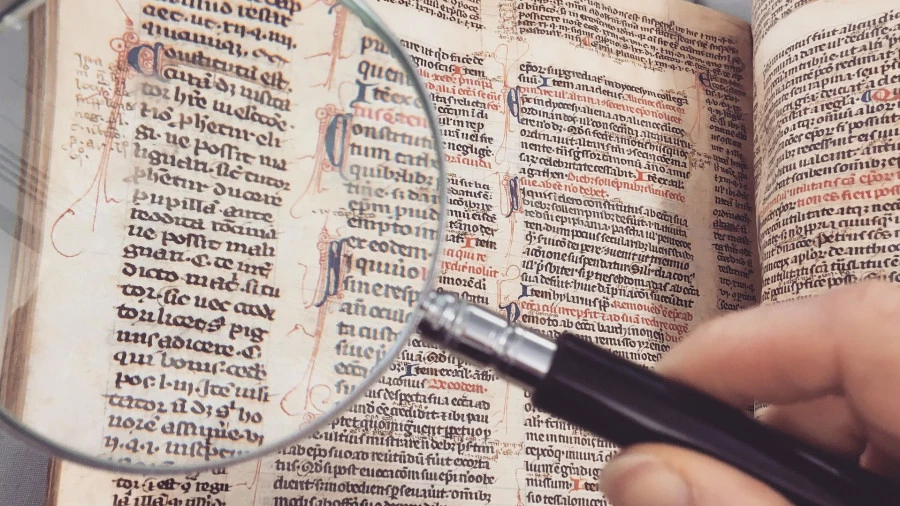 Книга. Лупа
СС0
День святого Валентина — католический праздник?
Нет. В 1969 году Римско-католическая церковь преобразовала церковный календарь и, в частности, отменила День святого Валентина как общекатолический праздник. Причина заключалась в том, что о святом Валентине очень мало точной информации.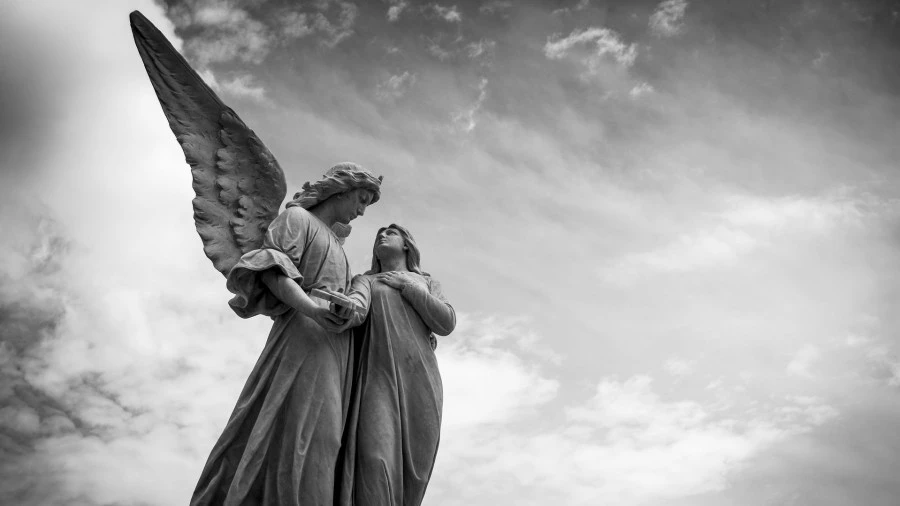 Ангел
СС0
Правда ли
,

что святой Валентин венчал однополые браки?

Во-первых, на это совсем нет указаний в имеющейся информации о святых с именем Валентин.

Во-вторых, в третьем веке просто не было отдельного обряда, который бы фиксировал заключение брака. При этом Римская империя была языческой державой, а христиане — гонимыми официальной властью.

Так что скорее всего это только слух, связанный с Днем святого Валентина.


Важные новости, обзоры и истории
Всегда есть, что почитать. Подпишитесь!



Совсем скоро мы отпразднуем День всех влюбленных. Однако в последние годы событию начали приписывать менее романтичное значение, именуя его «праздником голубых». Этому предшествовало появление теории о том, что святой мученик Валентин венчал не только традиционные пары, но и гомосексуалистов.
Праздник «голубых»: почему День святого Валентина связывают с ЛГБТ-движением
На последний месяц зимы приходится один из самых трогательных и романтических праздников, которого с нетерпением ждут многие влюбленные. Событие пронизано особой атмосферой, которая начинает витать еще задолго до праздника: в магазинах и заведениях отдыха появляются тематические декорации, в честь торжества идет подготовка различных мероприятий, а люди занимаются поиском подарков для объектов своих симпатий или планируют совместные путешествия.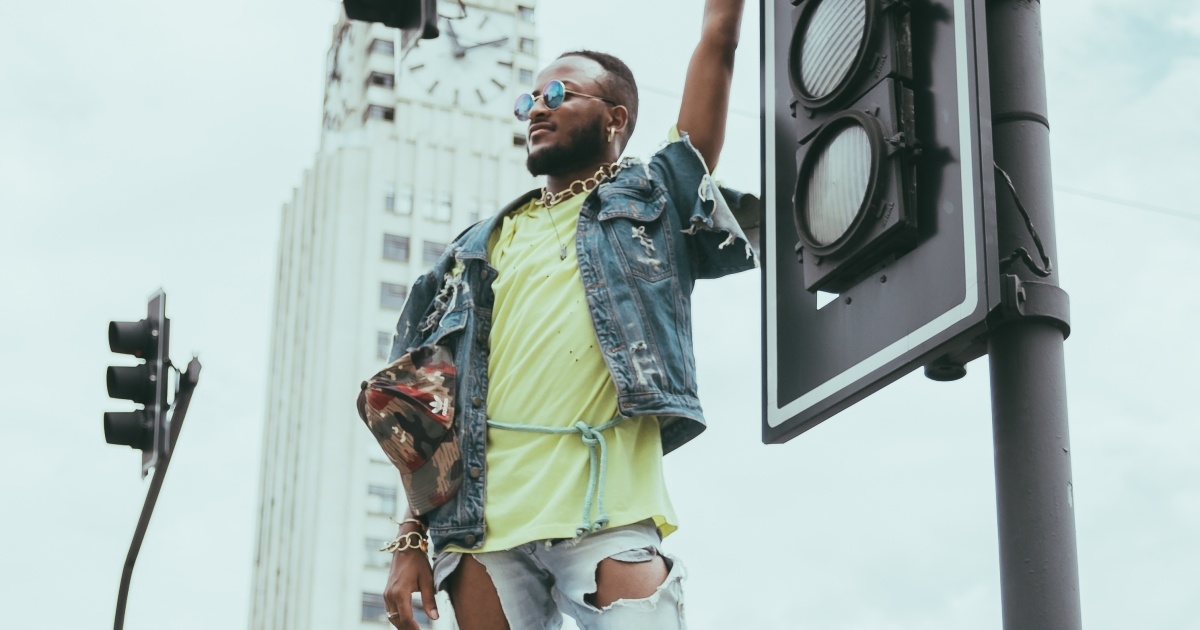 День святого Валентина отмечается уже на протяжении XVI веков, но в последнее время находится все больше людей с противоречивым отношением к празднику. Речь идет о том, что событию начали приписывать связь с ЛГБТ-движением. На эту тему нет достоверной информации, однако существует несколько теорий:
святой Валентин венчал не только гетеросексуальные пары, но и однополые, что противоречит христианским принципам;
святой Валентин сам был гомосексуалистом.
Ни одно из вышеупомянутых мнений не является проверенным историческим фактом.
На чем основываются предположения, что день 14 февраля пропагандирует гомосексуализм
Личность святого мученика Валентина, который втайне проповедовал христианство и благословлял союзы влюбленных во времена язычества, является загадочной.
Истории известны трое мужчин с именем Валентин, которые жили приблизительно в один и тот же период и чьи судьбы имели много общего: один был римским священником, другой епископом в Интераме, а третий – проповедником в африканской провинции Рима. По данным некоторых исследователей, эти личности и легли в основу создания мифического образа покровителя всех влюбленных.
Согласно легенде, римский император-язычник Клавдий ІІ запретил солдатам жениться, чтобы романтические отношения никаким образом не повлияли на боевой дух, и уж тем более давать обет верности перед христианским Богом. В то время среди римлян были распространены как гетеросексуальные, так и однополые отношения.
Святой Валентин якобы ослушался императора и втайне венчал всех желающих, за что впоследствии был казнен. По всей видимости, из-за недостатка информации и легенд, связанных с историей возникновения Дня всех влюбленных, с каждым годом с праздником связывают новые домыслы.
Что думают о Дне святого Валентина российские геи, лесбиянки, бисексуалы и трансгендерные-люди? Не слишком ли этот праздник гетеронормативный? А как его отмечают полиаморные люди? Что делать, если именно 14 февраля день рождения у твоего парня? Об этом и многом другом мы поговорили с российскими ЛГБТ-активистами и активистками, а также сочувствующими и неравнодушным.
Лёша Зайка и Дима Мишка, видеоблогеры
Лёша: Я родился 14 февраля. Сердечки и конфеты в этот день привык получать от всех родных и друзей, а поэтому и особой романтики для меня в этом всём нет. Но я считаю, что Валентинов день — отличный повод для людей в отношениях подарить друг другу немного радости, а для одиночек — сделать первый шаг к тому, кто нравится.
Меня немного смущает, что в последнее время праздник приобретает политический окрас в контексте того, что продвигается отечественный аналог, а от западного оригинала стараются отказаться. Лично у меня этот день ассоциируется только с приятными моментами, потому что я вижу, как все мои друзья и знакомые начинают суетиться и готовить сюрпризы своим вторым половинкам. В «отечественный день любви» такой суеты я пока что не замечал.
https://www.youtube.com/watch?v=4-QjX_OKgbA
Обидно только, что одинокие люди в этот день часто грустят. Но валентинки дарить можно не только любимому человеку, но также родным и друзьям, ведь их мы тоже любим, и этот день отличный повод, чтобы напомнить им об этом.
Дима: Для меня 14 Февраля – прежде всего, день рождения моего парня. Именно поэтому я стараюсь организовывать поздравление вдвое романтичнее: всё-таки сердечки и мимимишность могут прекрасно дополнить день рождения. Сам День Святого Валентина для меня – лишний повод сделать милое и приятное человеку, с которым состоишь в отношениях вне зависимости от того, однополые они или нет.
Юлия Малыгина, директорка организации "Ресурс ЛГБТКИА Москва"
Я люблю праздники. И день святого Валентина люблю, как ещё один прекрасный повод сделать подарок своей любимой, обратить внимание на наши чувства, отпраздновать нашу совместную жизнь. И мне кажется, это также прекрасный информационный повод, чтобы провести мероприятия посвящённые любви во всех её проявлениях.
Юлия Малыгина
Мне кажется, этот праздник очень коммерциализирован и как всякие продажи — опирается на стереотипы и нормативность потребления. И да — этот праздник начинает в России череду гендерных праздников 23 февраля, 8 марта. Но, я думаю, выход есть слово влюблённые — без гендерных маркеров. Влюблённые — это мужчины и женщины и небинарные персоны и любые другие — влюблённые. И их может быть двое, трое и сколько угодно в союзе. И один, мне кажется, тоже может праздновать свои чувства.
Алексей Сергеев,активист "Альянса гетеросексуалов и ЛГБТ за равноправие"
Не помню, когда последний раз как-то отмечал День святого Валентина. Обычно отношения еще не начинались, или уже заканчивались, если не брать первые с девушкой еще в школе и после нее, или последние, когда уже принципиально считал это какой-то блажью. Считаю всё это скорее коммерческой историей, лишние подарочки, посещение кафе и кино и т.д. Мне больше нравится все это делать без повода, а то как-то искусственно. Поэтому же не люблю 23 февраля и 8 марта.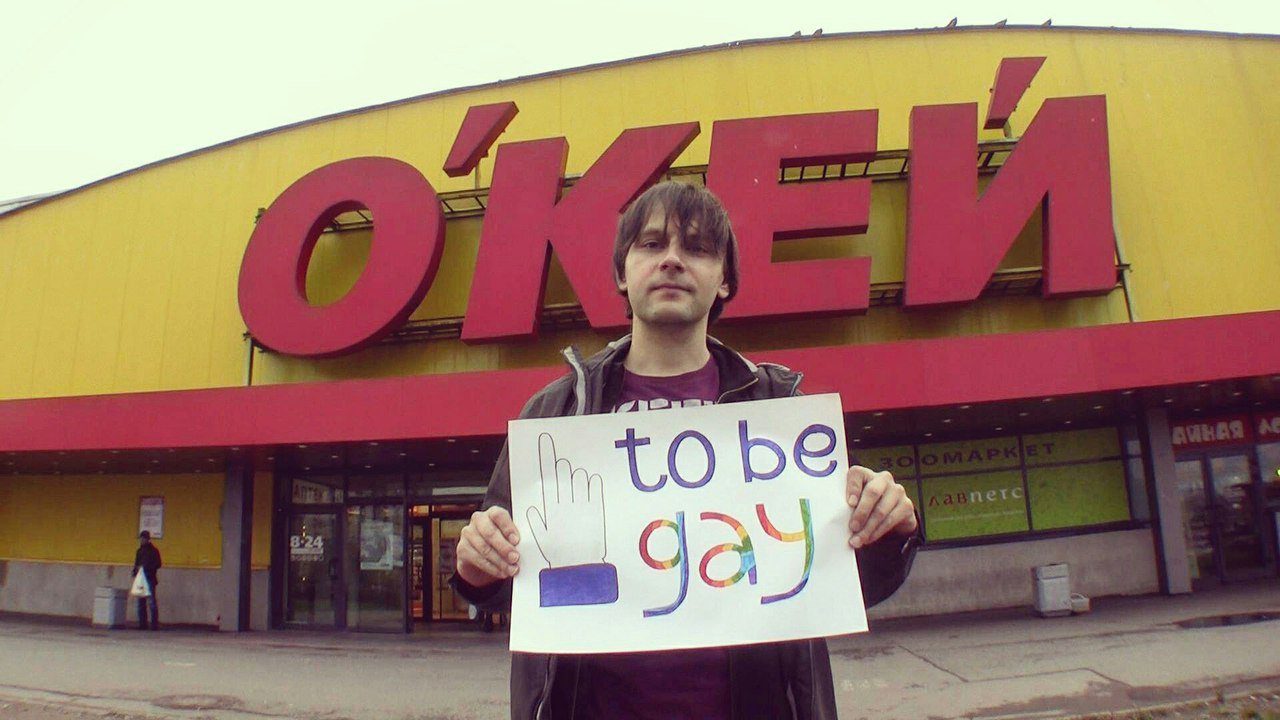 Алексей Сергеев
Считаю ли я этот праздник слишком гетеронормативным? Ну, весь мир гетеронормативный. Я бы не сказал, что именно этот день как-то особенно, он в общем тренде. Хотя репрезентации однополых пар, конечно, маловато. Сказки — гетеронормативны. Большинство отечественных клипов — тоже. Объявления в супермаркетах, вопросы: «Когда женишься?» от малознакомых людей или дальних родственников, типа моего троюродного дяди-моряка, с которым видимся раз в несколько лет.
Данте Теодори, независимый ЛГБТ-активист
Я отношусь к 14 февраля очень положительно. Всегда его праздную. Поздравляю не только того, кто у меня есть или кого нет, а ещё своих родителей и друзей.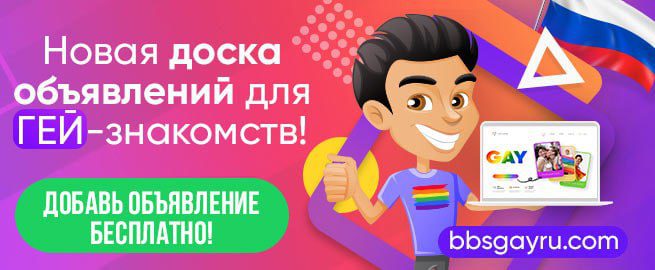 [adrotate group=»1″]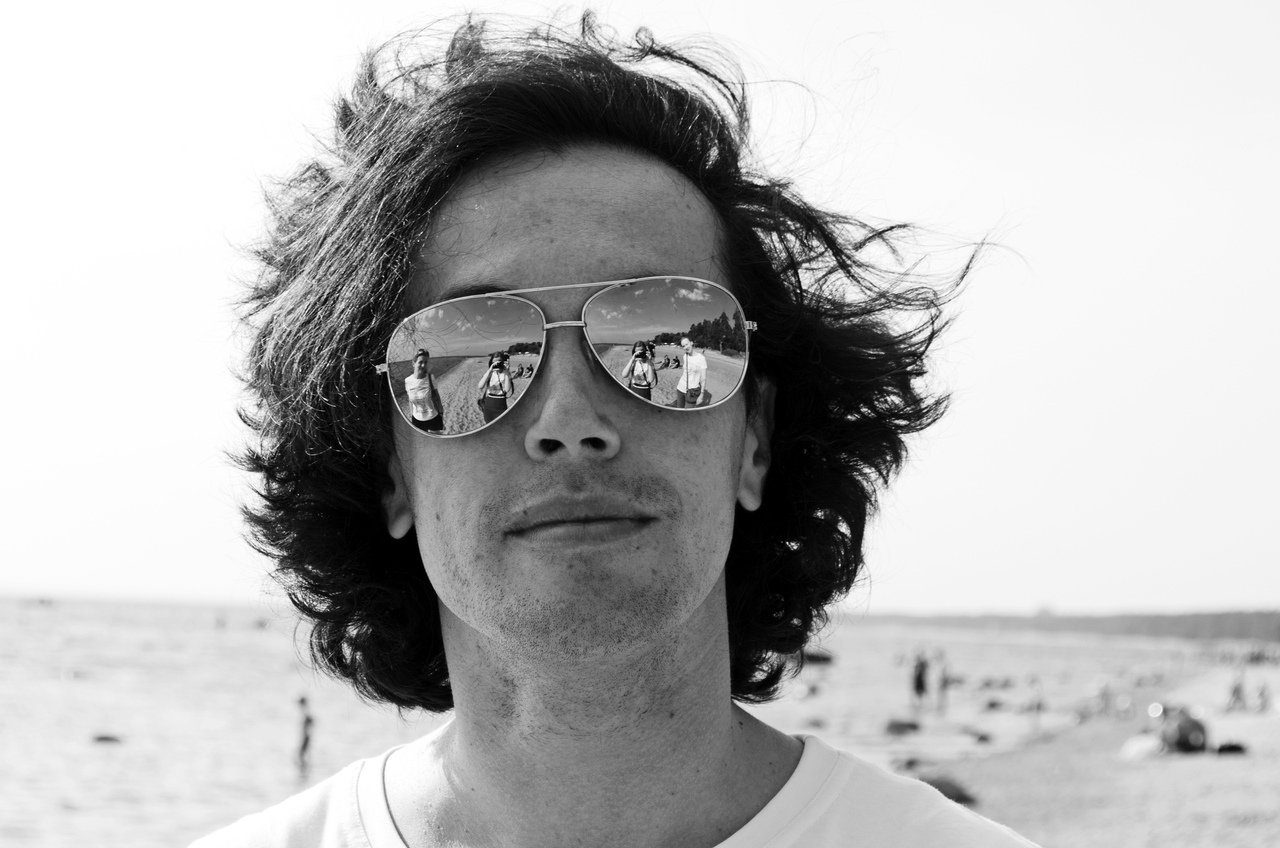 Данте Теодори
Так как сейчас на 14 февраля я один, то собираюсь праздновать или с друзьями или в одиночку — приду домой с работу и съём какое-нибудь пирожное, какую-нибудь вкусняшку, которую в остальные дни себе не покупаю. Выпью винца и что-нибудь романтическое посмотрю. То есть для меня как Хеллоуин, только немного с другой коннотацией. Это праздник, который не только про любовь романтическую, но и про другие её виды — любовь дружескую, любовь к родителям, любую другую любовь (наверное, исключая лишь любовь к Родине и т.д.).
Соби Бугаммер, практикующая психологиня, поли-активистка, квир-персона
В этом празднике, конечно же, есть место и для полиамории. Все люди разные и по-разному могут отмечать День святого Валентина. Есть такое понятие как "полиамория круглого стола" — когда партнёры партнёров собираются вместе и все большой компанией что-то отмечают. Не между ними всеми могут быть отношения, но кто-то всё равно связан какими-то отношениями друг с другом. Вполне возможно, что кто-то отмечает 14 февраля такой компанией. Кто-то может спланировать неделю или день так, чтобы провести время со всеми своими партнёрами.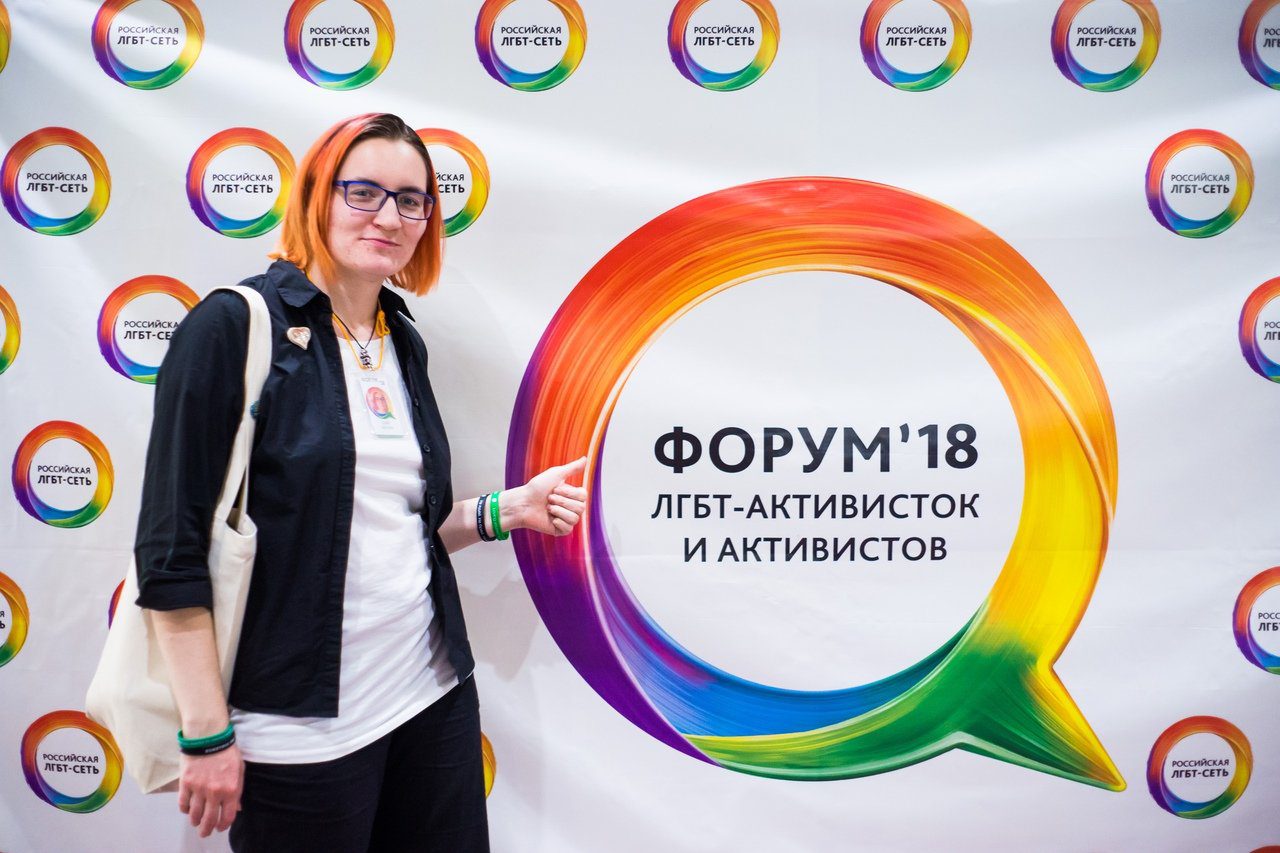 Да, день святого Валентина очень гетеронормативен. Но ничего нам не мешает менять этот день. Тоже самое, что происходит с 8 марта, когда феминистки возвращают обратно его смысл, напоминают, что это не про женственность и цветочки, а про права человека и права женщины. Мне кажется, что 14 февраля можно говорить, что это не про гетеронормативность и мононормативность, а про любовь, чувства и взаимоотношения людей. есть любовь, которая проявляется не к человеку, а к какому-то явлению, к работе, к самому себе. Она может быть разной и вне зависимости от того, есть ли у человека отношения или нет.
Кир Федоров, психолог, со-основатель движения «Психология за права человека"
В этом году я вообще забыл про День святого Валентина. Для меня большой вопрос, зачем выделять какой-то один день и использовать его как повод рассказать любимому человеку о своём отношении к нему или к ней, что-то подарить, сходить в бар или ресторан. чтобы отметить наличие ваших отношений. Мне кажется, что это можно делать и без формальных поводов.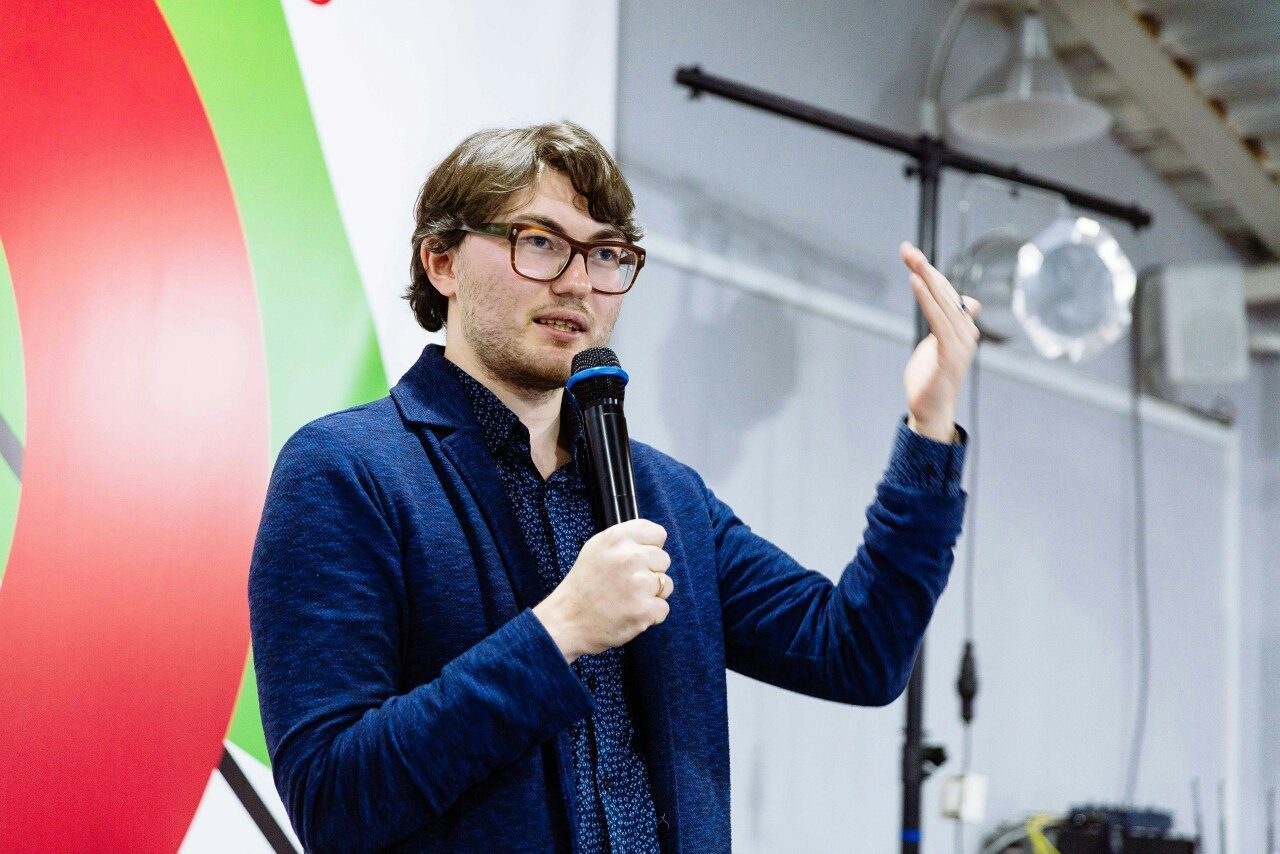 Кир Фёдоров
За бортом этого праздника в публичном пространстве остается большое количество групп, пар и людей, которые по различным общественным критериям не подходят под любящие пары, под союзы, в которых царит любовь и поддержка. И это негативное последствие, которое я вижу в этом празднике. Поэтому я последние несколько лет в этот день стараюсь что-то делать, писать и говорить в поддержку тех, кто не вписывается в этот праздник.
Это касается и однополых пар, которые, к примеру, не будут участвовать в каких-то конкурсах в этот день, которые мы можем видеть в торговых центрах, и немоногамных людей, которые тоже не вписываются в этот день. Кроме того, люди, у которых на данный момент нет отношений или они их не хотят, тоже в этот день могут почувствовать прессинг.
Если вы нашли ошибку, пожалуйста, выделите фрагмент текста и нажмите Ctrl+Enter.
В продолжении темы
File:Ergersheim NDAltbronn 46.JPG
Saint Valentine
Valentine's Day, also called Saint Valentine's Day or the Feast of Saint Valentine,[1] is celebrated annually on February 14. It originated as a Western Christian feast day honoring one or two early Christian martyrs named Saint Valentine and is recognized as a significant cultural, religious, and commercial celebration of romance and love in many regions of the world.
There are a number of martyrdom stories associated with various Valentines connected to February 14,[2] including an account of the imprisonment of Saint Valentine of Rome for ministering to Christians persecuted under the Roman Empire in the third century.[3][4] According to an early tradition, Saint Valentine restored sight to the blind daughter of his jailer.[5] Numerous later additions to the legend have better related it to the theme of love: an 18th-century embellishment to the legend claims he wrote the jailer's daughter a letter signed «Your Valentine» as a farewell before his execution;[6] another addition posits that Saint Valentine performed weddings for Christian soldiers who were forbidden to marry.[4]
The Feast of Saint Valentine was established by Pope Gelasius I in AD 496 to be celebrated on February 14 in honour of Saint Valentine of Rome, who died on that date in AD 269.[7][8] The day became associated with romantic love in the 14th and 15th centuries when notions of courtly love flourished, apparently by association with the «lovebirds» of early spring. In 18th-century England, it grew into an occasion in which couples expressed their love for each other by presenting flowers, offering confectionery, and sending greeting cards (known as «valentines»). Valentine's Day symbols that are used today include the heart-shaped outline, doves, and the figure of the winged Cupid. Since the 19th century, handwritten valentines have given way to mass-produced greeting cards.[9] In Italy, Saint Valentine's Keys are given to lovers «as a romantic symbol and an invitation to unlock the giver's heart», as well as to children to ward off epilepsy (called Saint Valentine's Malady).[10]
Saint Valentine's Day is not a public holiday in any country, although it is an official feast day in the Anglican Communion[11] and the Lutheran Church.[12] Many parts of the Eastern Orthodox Church also celebrate Saint Valentine's Day on July 6 in honor of Roman presbyter Saint Valentine, and on July 30 in honor of Hieromartyr Valentine, the Bishop of Interamna (modern Terni).[13]
Saint Valentine
[
]
Main article:

Saint Valentine
History
[
]
File:St-valentine 110921-01.jpg

Shrine of St. Valentine in Whitefriar Street Carmelite Church in Dublin, Ireland
Numerous early Christian martyrs were named Valentine.[14] The Valentines honored on February 14 are Valentine of Rome (Valentinus presb. m. Romae) and Valentine of Terni (Valentinus ep. Interamnensis m. Romae).[15] Valentine of Rome was a priest in Rome who was martyred in 269 and was added to the calendar of saints by Pope Gelasius I in 496 and was buried on the Via Flaminia. The relics of Saint Valentine were kept in the Church and Catacombs of San Valentino in Rome, which «remained an important pilgrim site throughout the Middle Ages until the relics of St. Valentine were transferred to the church of Santa Prassede during the pontificate of Nicholas IV«.[16][17] The flower-crowned skull of Saint Valentine is exhibited in the Basilica of Santa Maria in Cosmedin, Rome. Other relics are found at Whitefriar Street Carmelite Church in Dublin, Ireland.[18]
Valentine of Terni became bishop of Interamna (now Terni, in central Italy) and is said to have been martyred during the persecution under Emperor Aurelian in 273. He is buried on the Via Flaminia, but in a different location from Valentine of Rome. His relics are at the Basilica of Saint Valentine in Terni (Basilica di San Valentino). Professor Jack B. Oruch of the University of Kansas notes that «abstracts of the acts of the two saints were in nearly every church and monastery of Europe.»[19] The Catholic Encyclopedia also speaks of a third saint named Valentine who was mentioned in early martyrologies under date of February 14. He was martyred in Africa with a number of companions, but nothing more is known about him.[20] A relic claimed to be Saint Valentine of Terni's head was preserved in the abbey of New Minster, Winchester, and venerated.[21]
February 14 is celebrated as St. Valentine's Day in various Christian denominations; it has, for example, the rank of 'commemoration' in the calendar of saints in the Anglican Communion.[11] In addition, the feast day of Saint Valentine is also given in the calendar of saints of the Lutheran Church.[12] However, in the 1969 revision of the Roman Catholic Calendar of Saints, the feast day of Saint Valentine on February 14 was removed from the General Roman Calendar and relegated to particular (local or even national) calendars for the following reason: «Though the memorial of Saint Valentine is ancient, it is left to particular calendars, since, apart from his name, nothing is known of Saint Valentine except that he was buried on the Via Flaminia on February 14.»[22]
The feast day is still celebrated in Balzan (Malta) where relics of the saint are claimed to be found, and also throughout the world by Traditionalist Catholics who follow the older, pre-Second Vatican Council calendar (see General Roman Calendar of 1960).
In the Eastern Orthodox Church, St. Valentine is recognized on July 6, in which Saint Valentine, the Roman presbyter, is honoured; in addition, the Eastern Orthodox Church observes the feast of Hieromartyr Valentine, Bishop of Interamna, on July 30.[23][24][25]
[

]
File:St-valentine-baptizing-st-lucilla-jacopo-bassano.jpg

St Valentine baptizing St Lucilla, Jacopo Bassano.
J.C. Cooper, in The Dictionary of Christianity, writes that Saint Valentine was «a priest of Rome who was imprisoned for succouring persecuted Christians.»[26] Contemporary records of Saint Valentine were most probably destroyed during this Diocletianic Persecution in the early 4th century.[27] In the 5th or 6th century, a work called Passio Marii et Marthae published a story of martyrdom for Saint Valentine of Rome, perhaps by borrowing tortures that happened to other saints, as was usual in the literature of that period. The same events are also found in Bede's Martyrology, which was compiled in the 8th century.[27][28] It states that Saint Valentine was persecuted as a Christian and interrogated by Roman Emperor Claudius II in person. Claudius was impressed by Valentine and had a discussion with him, attempting to get him to convert to Roman paganism in order to save his life. Valentine refused and tried to convert Claudius to Christianity instead. Because of this, he was executed. Before his execution, he is reported to have performed a miracle by healing Julia, the blind daughter of his jailer Asterius. The jailer's daughter and his forty-six member household (family members and servants) came to believe in Jesus and were baptized.[29][27]
A later Passio repeated the legend, adding that Pope Julius I built a church over his sepulchre (it is a confusion with a 4th-century tribune called Valentino who donated land to build a church at a time when Julius was a Pope).[28] The legend was picked up as fact by later martyrologies, starting by Bede's martyrology in the 8th century.[28] It was repeated in the 13th century, in The Golden Legend.[30]
There is an additional embellishment to The Golden Legend, which according to Henry Ansgar Kelly, was added in the 18th century and widely repeated.[31] On the evening before Valentine was to be executed, he is supposed to have written the first «valentine» card himself, addressed to the daughter of his jailer Asterius, who was no longer blind, signing as «Your Valentine.»[31] The expression «From your Valentine» was later adopted by modern Valentine letters.[32] This legend has been published by both American Greetings and The History Channel.[33]
File:Valentineanddisciples.jpg

Saint Valentine of Terni and his disciples
John Foxe, an English historian, as well as the Order of Carmelites, state that Saint Valentine was buried in the Church of Praxedes in Rome, located near the cemetery of Saint Hippolytus. This order says that according to legend, «Julia herself planted a pink-blossomed almond tree near his grave. Today, the almond tree remains a symbol of abiding love and friendship.»[34][35]
Another embellishment suggests that Saint Valentine performed clandestine Christian weddings for soldiers who were forbidden to marry.[36] The Roman Emperor Claudius II supposedly forbade this in order to grow his army, believing that married men did not make for good soldiers.[36][37] However, George Monger writes that this marriage ban was never issued and that Claudius II told his soldiers to take two or three women for themselves after his victory over the Goths.[38]
According to legend, in order «to remind these men of their vows and God's love, Saint Valentine is said to have cut hearts from parchment», giving them to these soldiers and persecuted Christians, a possible origin of the widespread use of hearts on St. Valentine's Day.[39]
Saint Valentine supposedly wore a purple amethyst ring, customarily worn on the hands of Christian bishops with an image of Cupid engraved in it, a recognizable symbol associated with love that was legal under the Roman Empire;[37][40] Roman soldiers would recognize the ring and ask him to perform marriage for them.[37] Probably due to the association with Saint Valentine, amethyst has become the birthstone of February, which is thought to attract love.[41]
Folk traditions
[
]
While the European folk traditions connected with Saint Valentine and St. Valentine's Day have become marginalized by the modern Anglo-American customs connecting the day with romantic love, there are some remaining associations connecting the saint with the advent of spring.
While the custom of sending cards, flowers, chocolates and other gifts originated in the UK, Valentine's Day still remains connected with various regional customs in England. In Norfolk, a character called 'Jack' Valentine knocks on the rear door of houses leaving sweets and presents for children. Although he was leaving treats, many children were scared of this mystical person.[42][43]
In Slovenia, Saint Valentine or Zdravko was one of the saints of spring, the saint of good health and the patron of beekeepers and pilgrims.[44]
A proverb says that «Saint Valentine brings the keys of roots». Plants and flowers start to grow on this day. It has been celebrated as the day when the first work in the vineyards and in the fields commences. It is also said that birds propose to each other or marry on that day. Another proverb says «Valentin – prvi spomladin» («Valentine – the first spring saint»), as in some places (especially White Carniola), Saint Valentine marks the beginning of spring.[45] Valentine's Day has only recently been celebrated as the day of love. The day of love was traditionally March 12, the Saint Gregory's day, or February 22, Saint Vincent's Day. The patron of love was Saint Anthony, whose day has been celebrated on June 13.[44]
Connection with romantic love
[
]
Refuted ancient origins
[
]
No evidence has been demonstrated to link St. Valentine's Day and the rites of the ancient Roman purification festival of Lupercalia, despite persistent and sometimes detailed claims by many authors to the contrary, nor to any otherwise unspecified Greco-Roman holiday supposed to have celebrated love or fertility.[21][46][notes 1][47] The celebration of Saint Valentine is not known to have had any romantic connotations until Chaucer's poetry about «Valentine's Day» in the 14th century, some seven hundred years after celebration of Lupercalia is believed to have ceased.[27]
In Ancient Rome, Lupercalia was observed February 13–15. It was a rite connected to purification and health, and had only slight connection to fertility (as a part of health) and none to love. Lupercalia was a festival local to the city of Rome. The more general Festival of Juno Februa, meaning «Juno the purifier» or «the chaste Juno», was celebrated on February 13–14. Pope Gelasius I (492–496) abolished Lupercalia. Some researchers have theorized that Gelasius I replaced Lupercalia with the celebration of the Purification of the Blessed Virgin Mary and claim a connection to the 14th century's connotations of romantic love, but there is no historical indication that he ever intended such a thing.[47][notes 2][48] Also, the dates do not fit because at the time of Gelasius I, the feast was only celebrated in Jerusalem, and it was on February 14 only because Jerusalem placed the Nativity of Jesus (Christmas) on January 6.[notes 3] Although it was called «Purification of the Blessed Virgin Mary», it also dealt with the presentation of Jesus at the temple.[49] Jerusalem's Purification of the Blessed Virgin Mary on February 14 became the Presentation of Jesus at the Temple on February 2 as it was introduced to Rome and other places in the sixth century, after Gelasius I's time.[49]
Alban Butler in his Lifes of the Principal Saints (1756–1759) claimed without proof that men and women in Lupercalia drew names from a jar to make couples, and that modern Valentine's letters originated from this custom. In reality, this practice originated in the Middle Ages, with no link to Lupercalia, with men drawing the names of girls at random to couple with them. This custom was combated by priests, for example by Frances de Sales around 1600, apparently by replacing it with a religious custom of girls drawing the names of apostles from the altar. However, this religious custom is recorded as soon as the 13th century in the life of Saint Elizabeth of Hungary, so it could have a different origin.[21]
File:Chaucer Hoccleve.png

Geoffrey Chaucer by Thomas Hoccleve (1412)
Template:Anchor
Chaucer's Parliament of Fowls

[

]
The first recorded association of Valentine's Day with romantic love is believed to be in the Parliament of Fowls (1382) by Geoffrey Chaucer, a dream vision portraying a parliament for birds to choose their mates.[27] Honoring the first anniversary of the engagement of fifteen-year-old King Richard II of England to fifteen-year-old Anne of Bohemia,[50] Chaucer wrote (in Middle English):
«For this was on seynt Volantynys day
Whan euery bryd comyth there to chese his make
Of euery kynde that men thinke may
And that so heuge a noyse gan they make
That erthe & eyr & tre & euery lake
So ful was that onethe was there space
For me to stonde, so ful was al the place.»
In modern English:
«For this was on Saint Valentine's Day
When every bird comes there to choose his match
(Of every kind that men may think of!),
And that so huge a noise they began to make
That earth and air and tree and every lake
Was so full, that not easily was there space
For me to stand—so full was all the place.»
Readers have uncritically assumed that Chaucer was referring to February 14 as Valentine's Day. Henry Ansgar Kelly has observed that Chaucer might have had in mind the feast day of St. Valentine of Genoa, an early bishop of Genoa who died around AD 307; it was probably celebrated on 3 May.[50][51][52] A treaty providing for Richard II and Anne's marriage, the subject of the poem, was signed on May 2, 1381.[53]
Jack B. Oruch notes that the date on which spring begins has changed since Chaucer's time because of the precession of the equinoxes and the introduction of the more accurate Gregorian calendar only in 1582. On the Julian calendar in use in Chaucer's time, February 14 would have fallen on the date now called February 23, a time when some birds have started mating and nesting in England.[27]
Chaucer's Parliament of Fowls refers to a supposedly established tradition, but there is no record of such a tradition before Chaucer. The speculative derivation of sentimental customs from the distant past began with 18th-century antiquaries, notably Alban Butler, the author of Butler's Lives of Saints, and have been perpetuated even by respectable modern scholars. Most notably, «the idea that Valentine's Day customs perpetuated those of the Roman Lupercalia has been accepted uncritically and repeated, in various forms, up to the present».[21][54]
Three other authors who made poems about birds mating on St. Valentine's Day around the same years: Otton de Grandson from Savoy, John Gower from England, and a knight called Pardo from Valencia. Chaucer most probably predated all of them; but due to the difficulty of dating medieval works, it is not possible to ascertain which of the four may have influenced the others.[55]
Court of love
[
]
The earliest description of February 14 as an annual celebration of love appears in the Charter of the Court of Love. The charter, allegedly issued by Charles VI of France at Mantes-la-Jolie in 1400, describes lavish festivities to be attended by several members of the royal court, including a feast, amorous song and poetry competitions, jousting and dancing.[56] Amid these festivities, the attending ladies would hear and rule on disputes from lovers.[57] No other record of the court exists, and none of those named in the charter were present at Mantes except Charles's queen, Isabeau of Bavaria, who may well have imagined it all while waiting out a plague.[56]
Valentine poetry
[
]
The earliest surviving valentine is a 15th-century rondeau written by Charles, Duke of Orléans to his wife, which commences.
Template:Quote At the time, the duke was being held in the Tower of London following his capture at the Battle of Agincourt, 1415.[58]
The earliest surviving valentines in English appear to be those in the Paston Letters, written in 1477 by Margery Brewes to her future husband John Paston «my right well-beloved Valentine».[59]
Valentine's Day is mentioned ruefully by Ophelia in William Shakespeare's Hamlet (1600–1601):
Template:Quote
John Donne used the legend of the marriage of the birds as the starting point for his epithalamion celebrating the marriage of Elizabeth, daughter of James I of England, and Frederick V, Elector Palatine, on Valentine's Day:
Template:Quote
The verse «Roses are red» echoes conventions traceable as far back as Edmund Spenser's epic The Faerie Queene (1590):
«She bath'd with roses red, and violets blew,
And all the sweetest flowres, that in the forrest grew.»[60]
The modern cliché Valentine's Day poem can be found in the collection of English nursery rhymes Gammer Gurton's Garland (1784):
«The rose is red, the violet's blue,

The honey's sweet, and so are you.
Thou art my love and I am thine;
I drew thee to my Valentine:
The lot was cast and then I drew,

And Fortune said it shou'd be you.»[61][62]
Modern times
[
]
File:Card; valentine card — Google Art Project.jpg

An English Victorian era Valentine card located in the Museum of London
In 1797, a British publisher issued The Young Man's Valentine Writer, which contained scores of suggested sentimental verses for the young lover unable to compose his own. Printers had already begun producing a limited number of cards with verses and sketches, called «mechanical valentines.» Paper Valentines became so popular in England in the early 19th century that they were assembled in factories. Fancy Valentines were made with real lace and ribbons, with paper lace introduced in the mid-19th century.[63] In 1835, 60,000 Valentine cards were sent by post in the United Kingdom, despite postage being expensive.[64]
A reduction in postal rates following Sir Rowland Hill's postal reforms with the 1840 invention of the postage stamp (Penny Black) saw the number of Valentines posted increase, with 400,000 sent just one year after its invention, and ushered in the less personal but easier practice of mailing Valentines.[65] That made it possible for the first time to exchange cards anonymously, which is taken as the reason for the sudden appearance of racy verse in an era otherwise prudishly Victorian.[66] Production increased, «Cupid's Manufactory» as Charles Dickens termed it, with over 3,000 women employed in manufacturing.[65] The Laura Seddon Greeting Card Collection at Manchester Metropolitan University gathers 450 Valentine's Day cards dating from early nineteenth century Britain, printed by the major publishers of the day.[67] The collection appears in Seddon's book Victorian Valentines (1996).[68]
File:Red Roses (6862116332).jpg

Flowers, such as red roses (pictured), are often sent on Valentine's Day
In the United States, the first mass-produced Valentines of embossed paper lace were produced and sold shortly after 1847 by Esther Howland (1828–1904) of Worcester, Massachusetts.[69][70] Her father operated a large book and stationery store, but Howland took her inspiration from an English Valentine she had received from a business associate of her father.[71][72] Intrigued with the idea of making similar Valentines, Howland began her business by importing paper lace and floral decorations from England.[72][73] A writer in Graham's American Monthly observed in 1849, «Saint Valentine's Day … is becoming, nay it has become, a national holyday.»[74] The English practice of sending Valentine's cards was established enough to feature as a plot device in Elizabeth Gaskell's Mr. Harrison's Confessions (1851): «I burst in with my explanations: 'The valentine I know nothing about.' 'It is in your handwriting', said he coldly.»[75] Since 2001, the Greeting Card Association has been giving an annual «Esther Howland Award for a Greeting Card Visionary».[70]
Since the 19th century, handwritten notes have given way to mass-produced greeting cards.[9] In the UK, just under half of the population spend money on their Valentines, and around £1.9 billion was spent in 2015 on cards, flowers, chocolates and other gifts.[76] The mid-19th century Valentine's Day trade was a harbinger of further commercialized holidays in the U.S. to follow.[77]
File:Elmer Valentine boxed chocolates.jpg

A gift box of chocolates, which is a common gift for Valentine's Day
In 1868, the British chocolate company Cadbury created Fancy Boxes – a decorated box of chocolates – in the shape of a heart for Valentine's Day.[78] Boxes of filled chocolates quickly became associated with the holiday.[78] In the second half of the 20th century, the practice of exchanging cards was extended to all manner of gifts, such as giving jewelry.
The U.S. Greeting Card Association estimates that approximately 190 million valentines are sent each year in the US. Half of those valentines are given to family members other than husband or wife, usually to children. When the valentine-exchange cards made in school activities are included the figure goes up to 1 billion, and teachers become the people receiving the most valentines.[69] The average valentine's spending has increased every year in the U.S, from $108 a person in 2010 to $131 in 2013.[79]
The rise of Internet popularity at the turn of the millennium is creating new traditions. Millions of people use, every year, digital means of creating and sending Valentine's Day greeting messages such as e-cards, love coupons or printable greeting cards. An estimated 15 million e-valentines were sent in 2010.[69] Valentine's Day is considered by some to be a Hallmark holiday due to its commercialization.[80]
In the modern era, liturgically, the Anglican Church has a service for St. Valentine's Day (the Feast of St. Valentine), which includes the optional rite of the renewal of marriage vows.[81] In 2016, Catholic Bishops of England and Wales established a novena prayer «to support single people seeking a spouse ahead of St Valentine's Day.»[82]
Celebration and status worldwide
[
]
Valentine's Day customs – sending greeting cards (known as "valentines"), offering confectionary and presenting flowers – developed in early modern England and spread throughout the English-speaking world in the 19th century. In the later 20th and early 21st centuries, these customs spread to other countries, but their effect has been more limited than those of Hallowe'en, or than aspects of Christmas, (such as Santa Claus).Template:Citation needed
Valentine's Day is celebrated in many East Asian countries with Singaporeans, Chinese and South Koreans spending the most money on Valentine's gifts.[83]
Americas
[
]
Latin America
[
]
In most Latin American countries, for example, Costa Rica,[84] Mexico,[85] and Puerto Rico, Saint Valentine's Day is known as Día de los Enamorados (day of lovers)[86] or as Día del Amor y la Amistad (Day of Love and Friendship). It is also common to see people perform «acts of appreciation» for their friends.[87]
In Guatemala it is known as the «Día del Cariño» (Affection Day).[88] Some countries, in particular the Dominican Republic and El Salvador,[89] have a tradition called Amigo secreto («Secret friend»), which is a game similar to the Christmas tradition of Secret Santa.[87]
Brazil
[
]
Main article:

Dia dos Namorados
In Brazil, the Dia dos Namorados (lit. «Lovers' Day», or «Boyfriends'/Girlfriends' Day») is celebrated on June 12, probably because that is the day before Saint Anthony's day, known there as the marriage saint,[90] when traditionally many single women perform popular rituals, called simpatias, in order to find a good husband or boyfriend. Couples exchange gifts, chocolates, cards, and flower bouquets. The February 14 Valentine's Day is not celebrated at all because it usually falls too little before or too little after the Brazilian Carnival[91] – that can fall anywhere from early February to early March and lasts almost a week. Because of the absence of Valentine's Day and due to the celebrations of the Carnivals, Brazil was recommended by U.S. News & World Report as a tourist destination during February for Western singles who want to get away from the holiday.[92]
Colombia
[
]
Colombia celebrates Día del amor y la amistad on the third Saturday in September instead.[93] Amigo Secreto is also popular there.[94]
United States
[
]
File:Necco-Candy-SweetHearts.jpg

Conversation hearts, candies with messages on them that are strongly associated with Valentine's Day.
In the United States, about 190 million Valentine's Day cards are sent each year, not including the hundreds of millions of cards school children exchange.[95]
Valentine's Day is a major source of economic activity, with total expenditures in 2017 topping $18.2 billion in 2017, or over $136 per person.[96] This is an increase from $108 per person in 2010.[79]
Asia
[
]
Afghanistan
[
]
In the Afghan tradition, love is often expressed through poetry. Some new generation budding poets like Ramin Mazhar , Mahtab Sahel are expressing themselves through poetry using Valentine's Day expressing concerns on any likelihood of erosion of freedoms. In their political comment they defy fear by saying 'I kiss you amid the Taliban'[97]
China
[
]
Template:See also
In Chinese, Valentine's Day is called lovers' festival (Template:Zh; Mandarin: Qīng Rén Jié; Hokkien: Chêng Lîn Chiat; Cantonese: Chìhng Yàhn Jit; Shanghainese Xin Yin Jiq). The «Chinese Valentine's Day» is the Qixi Festival, celebrated on the seventh day of the seventh month of the lunar calendar. It commemorates a day on which a legendary cowherder and weaving maid are allowed to be together. In Chinese culture, there is an older observance related to lovers, called «The Night of Sevens» (Template:Zh). According to the legend, the Cowherd star and the Weaver Maid star are normally separated by the Milky Way (silvery river) but are allowed to meet by crossing it on the 7th day of the 7th month of the Chinese calendar.[98]
In recent years, celebrating White Day has also become fashionable among some young people.[99]
India
[
]
Main article:

Valentine's Day in India
In India, in antiquity, there was a tradition of adoring Kamadeva, the lord of love; exemplificated by the erotic carvings in the Khajuraho Group of Monuments and by the writing of the Kamasutra.[100] This tradition was lost around the Middle Ages, when Kamadeva was no longer celebrated, and public displays of sexual affection became frowned upon.[100] This repression of public affections began to loosen in the 1990s.[101]
Valentine's Day celebrations did not catch on in India until around 1992. It was spread due to the programs in commercial TV channels, such as MTV, dedicated radio programs, and love letter competitions, in addition to an economical liberalization that allowed the explosion of the valentine card industry.[100][102] The celebration has caused a sharp change on how people have been displaying their affection in public since the Middle Ages.[100]
In modern times, Hindu and Islamic[103] traditionalists have considered the holiday to be cultural contamination from the West, a result of globalization in India.[100][102] Shiv Sena and the Sangh Parivar have asked their followers to shun the holiday and the «public admission of love» because of them being «alien to Indian culture».[104] Although these protests are organized by political elites, the protesters themselves are middle-class Hindu men who fear that the globalization will destroy the traditions in their society: arranged marriages, Hindu joint families, full-time mothers, etc.[102][103] Despite these obstacles, Valentine's Day is becoming increasingly popular in India.[105]
Valentine's Day has been strongly criticized from a postcolonial perspective by intellectuals from the Indian left. The holiday is regarded as a front for «Western imperialism», «neocolonialism«, and «the exploitation of working classes through commercialism by multinational corporations».[106] It is claimed that as a result of Valentine's Day, the working classes and rural poor become more disconnected socially, politically, and geographically from the hegemonic capitalist power structure. They also criticize mainstream media attacks on Indians opposed to Valentine's Day as a form of demonization that is designed and derived to further the Valentine's Day agenda.[107][108]
Right wing Hindu nationalists are also hostile. In February 2012, Subash Chouhan of the Bajrang Dal warned couples that «They cannot kiss or hug in public places. Our activists will beat them up».[109]
He said «We are not against love, but we criticize vulgar exhibition of love at public places».[110]
Iran
[
]
Main article:

Opposition to Valentine's day in Iran
People of Iran in cities have gotten familiar with Valentine's Day for about one decade ago and during this short time, it has become popular among the youth and also some elders. In the 2010s, celebration of Valentine's Day became common in wealthy families and then spread among other levels of society.[111] Specialists in the country say that banning Valentine's Day would encourage the youth more towards it.[112] Although Valentine's Day is not accepted/approved by any institution or rule in the country and has no official status, it's highly accepted among a large part of the population.[113] One of the reasons for Valentine's Day breaking out into the general population in Iran is the change in relations between the sexes, which are no longer bound to marriage for two decades.[114]
In the first part of the 21st century, the celebration of Valentine's Day in Iran has been harshly criticized by Islamic teachers who see the celebrations as opposed to Islamic culture. In 2011, the Iranian printing works owners' union issued a directive banning the printing and distribution of any goods promoting the holiday, including cards, gifts, and teddy bears. «Printing and producing any goods related to this day including posters, boxes and cards emblazoned with hearts or half-hearts, red roses and any activities promoting this day are banned … Outlets that violate this will be legally dealt with», the union warned.[115][116]
In 2016, local media reported that police had informed coffee shops and ice cream parlours in Tehran that they would be guilty of committing a crime if they encouraged «decadent Western culture through Valentine's Day rituals».[117] Under Iran's Islamic law, unmarried couples are not allowed to mingle. That is why each year the printing works owners' union issues an instruction on the ban of Valentine's Day, imposed by Iranian authorities which denies them from selling gifts such as cards, and boxes with the symbols of hearts and red roses. [118] Iran says it is cracking down on Valentine's Day celebrations and shops engaging in them will be guilty of a crime.[119] In recent years Iranian authorities have forbidden Valentine's celebrations, calling the holiday a "decadent Western custom" and threatening shops and restaurants with prosecution if they sell Valentine's Day gifts.[120]
In Iran, the Sepandarmazgan, or Esfandegan, is a festival where people express love towards their mothers and wives, and it is also a celebration of earth in ancient Persian culture.
It has been progressively forgotten in favor of the Western celebration of Valentine's Day. The Association of Iran's Cultural and Natural Phenomena has been trying since 2006 to make Sepandarmazgan a national holiday on February 17, in order to replace the Western holiday.[121]
Israel
[
]
In Israel, the Jewish tradition of Tu B'Av has been revived and transformed into the Jewish equivalent of Valentine's Day. It is celebrated on the 15th day of the month of Av (usually in late August). In ancient times girls would wear white dresses and dance in the vineyards, where the boys would be waiting for them (Mishna Taanith end of Chapter 4). Today, Tu B'Av is celebrated as a second holiday of love by secular people (along with Valentine's Day), and it shares many of the customs associated with Saint Valentine's Day in western societies. In modern Israeli culture Tu B'Av is a popular day to proclaim love, propose marriage, and give gifts like cards or flowers.[122]
Japan
[
]
In Japan, Morozoff Ltd. introduced the holiday for the first time in 1936, when it ran an advertisement aimed at foreigners. Later, in 1953, it began promoting the giving of heart-shaped chocolates; other Japanese confectionery companies followed suit thereafter. In 1958, the Isetan department store ran a «Valentine sale». Further campaigns during the 1960s popularized the custom.[123][124]
The custom that only women give chocolates to men may have originated from the translation error of a chocolate-company executive during the initial campaigns.[125] In particular, office ladies give chocolate to their co-workers. Unlike western countries, gifts such as greeting cards,[125] candies, flowers, or dinner dates[126] are uncommon, and most of the gifts-related activity is about giving the right amount of chocolate to each person.[125] Japanese chocolate companies make half their annual sales during this time of the year.[125]
Many women feel obliged to give chocolates to all male co-workers, except when the day falls on a Sunday, a holiday. This is known as giri-choko (義理チョコ), from giri («obligation») and choko, («chocolate»), with unpopular co-workers receiving only «ultra-obligatory» chō-giri choko cheap chocolate. This contrasts with honmei-choko (本命チョコ, lit. «true feeling chocolate»), chocolate given to a loved one. Friends, especially girls, may exchange chocolate referred to as tomo-choko (友チョコ); from tomo meaning «friend».[127]
In the 1980s, the Japanese National Confectionery Industry Association launched a successful campaign to make March 14 a «reply day», where men are expected to return the favour to those who gave them chocolates on Valentine's Day, calling it White Day for the color of the chocolates being offered. A previous failed attempt to popularize this celebration had been done by a marshmallow manufacturer who wanted men to return marshmallows to women.[123][124]
In Japan, the romantic «date night» associated to Valentine's Day is celebrated on Christmas Eve.[128]
Lebanon
[
]
File:Valentine's day cupcakes.jpg

Valentine's Day themed bouquet of cupcakes
Saint Valentine is the patron saint for a large part of the Lebanese population. Couples take the opportunity of Valentine's feast day to exchange sweet words and gifts as proof of love. Such gifts typically include boxes of chocolates, cupcakes, and red roses, which are considered the emblem of sacrifice and passion.Template:Citation needed
Lebanese people celebrate Valentine's Day in a different way in every city. In Beirut, men take women out to dine and may buy them a gift. Many women are asked to marry on that day. In Sidon, Valentine's Day is celebrated with the whole family – it is more about family love than a couple's love.Template:Citation needed
Malaysia
[
]
Islamic officials in West Malaysia warned Muslims against celebrating Valentine's Day, linking it with vice activities. Deputy Prime Minister Muhyiddin Yassin said the celebration of romantic love was «not suitable» for Muslims. Wan Mohamad Sheikh Abdul Aziz, head of the Malaysian Islamic Development Department (Jakim), which oversees the country's Islamic policies said that a fatwa (ruling) issued by the country's top clerics in 2005 noted that the day 'is associated with elements of Christianity,' and 'we just cannot get involved with other religions' worshipping rituals.' Jakim officials planned to carry out a nationwide campaign called «Awas Jerat Valentine's Day» («Mind the Valentine's Day Trap»), aimed at preventing Muslims from celebrating the day on February 14, 2011. Activities include conducting raids in hotels to stop young couples from having unlawful sex and distributing leaflets to Muslim university students warning them against the day.[129][130]
On Valentine's Day 2011, West Malaysian religious authorities arrested more than 100 Muslim couples concerning the celebration ban. Some of them would be charged in the Shariah Court for defying the department's ban against the celebration of Valentine's Day.[131]
In East Malaysia, the celebration are much more tolerated among young Muslim couples although some Islamic officials and Muslim activists from the West side have told younger generations to refrain from such celebration by organising da'wah and tried to spread their ban into the East.[132][133] In both the states of Sabah and Sarawak, the celebration is usually common with flowers.[134][135][136]
Pakistan
[
]
Main article:

Valentine's Day in Pakistan
The concept of Valentine's Day was introduced into Pakistan during the late 1990s with special TV and radio programs. The Jamaat-e-Islami political party has called for the banning of Valentine's Day celebration.[105] Despite this, the celebration is becoming popular among urban youth and the florists expect to sell a great amount of flowers, especially red roses. The case is the same with card publishers.[137]
In 2016, local governing body of Peshwar officially banned the celebration of Valentine's Day in the city. The ban was also implemented in other cities such as Kohat by the local governments.[138]
In 2017, the Islamabad High Court banned Valentine's Day celebrations in public places in Pakistan.[139]
Philippines
[
]
In the Philippines, Valentine's Day is called Araw ng mga Puso in much the same manner as in the West. It is usually marked by a steep increase in the price of flowers, particularly red roses.[140] It is the most popular day for weddings,[141] with some localities offering mass ceremonies for no charge.[142]
Saudi Arabia
[
]
In Saudi Arabia, in 2002 and 2008, religious police banned the sale of all Valentine's Day items, telling shop workers to remove any red items, because the day is considered a Christian holiday.[143][144] This ban has created a black market for roses and wrapping paper.[144][145] In 2012, the religious police arrested more than 140 Muslims for celebrating the holiday, and confiscated all red roses from flower shops.[146] Muslims are not allowed to celebrate the holiday, and non-Muslims can celebrate only behind closed doors.[147]
«Saudi cleric Sheikh Muhammad Al-'Arifi said on Valentine's Day Eve that celebrating this holiday constitutes bid'a – a forbidden innovation and deviation from religious law and custom – and mimicry of the West.»[148][149]
However, in 2017 and 2018, after a fatwa was widely circulated, the religious police did not prevent Muslims from celebrating the day.[150]
Singapore
[
]
According to findings, Singaporeans are among the biggest spenders on Valentine's Day, with 60% of Singaporeans indicating that they would spend between $100 and $500 during the season leading up to the holiday.[83]
South Korea
[
]
In South Korea, women give chocolate to men on February 14, and men give non-chocolate candy to women on March 14 (White Day). On April 14 (Black Day), those who did not receive anything on February or March 14 go to a Chinese-Korean restaurant to eat black noodles (짜장면 jajangmyeon) and lament their 'single life'.[126] Koreans also celebrate Pepero Day on November 11, when young couples give each other Pepero cookies. The date '11/11′ is intended to resemble the long shape of the cookie. The 14th of every month marks a love-related day in Korea, although most of them are obscure. From January to December: Candle Day, Valentine's Day, White Day, Black Day, Rose Day, Kiss Day, Silver Day, Green Day, Music Day, Wine Day, Movie Day, and Hug Day.[151] Korean women give a much higher amount of chocolate than Japanese women.[126]
Taiwan
[
]
File:TAIPEI 101 in Valentine's Day.JPG

Taipei 101 in Valentine's Day 2006
In Taiwan, traditional Qixi Festival, Valentine's Day and White Day are all celebrated. However, the situation is the reverse of Japan's. Men give gifts to women on Valentine's Day, and women return them on White Day.[126]
Europe
[
]
United Kingdom
[
]
In the UK, just under half of the population spend money on their Valentines and around £1.3 billion is spent yearly on cards, flowers, chocolates, and other gifts, with an estimated 25 million cards being sent.
In Wales, some people celebrate Dydd Santes Dwynwen (St. Dwynwen's Day) on January 25 instead of (or as well as) Valentine's Day. The day commemorates St Dwynwen, the Welsh patron saint of love.[152]
The Welsh name for Saint Valentine is Sant Ffolant.
Ireland
[
]
File:Whitefriar Street Carmelite Church.JPG

Many Christians make a pilgrimage to Whitefriar Street Carmelite Church on Saint Valentine's Day to implore the intercession of Saint Valentine in their prayers, with the hope of finding true love[153]
On Saint Valentine's Day in Ireland, many individuals who seek true love make a Christian pilgrimage to the Shrine of St. Valentine in Whitefriar Street Carmelite Church in Dublin, which is said to house relics of Saint Valentine of Rome; they pray at the shrine in hope of finding romance.[153] There lies a book in which foreigners and locals have written their prayer requests for love.[154]
Finland and Estonia
[
]
In Finland, Valentine's Day is called ystävänpäivä which translates into «Friend's Day». As the name indicates, this day is more about remembering friends, not significant others. In Estonia, Valentine's Day is called sõbrapäev, which has the same meaning.[155]
France
[
]
In France, a traditionally Catholic country, Valentine's Day is known simply as «Saint Valentin«, and is celebrated in much the same way as other western countries.[156]
The relics of Saint Valentin de Terni, the patron of the St Valentine's Day, are in the Catholic church of Saint-Jean-Baptiste and Saint-Jean-l'Evangéliste located in the southern France town of Roquemaure, Gard.
The celebrations of «Fête des Amoureux» takes place every two years on the Sunday closest to February 14. The village gets dressed in its 19th-century costume and put on the program with over 800 people.
Greece
[
]
St. Valentine's Day, or Ημέρα του Αγίου Βαλεντίνου in Greek tradition was not associated with romantic love. In the Eastern Orthodox church there is another Saint who protects people who are in love, Hyacinth of Caesarea (feast day July 3), but this was not widely known until the late 1990s[157] In contemporary Greece, Valentine's Day is generally celebrated as in the common Western tradition.[158]
Portugal
[
]
In Portugal, the holiday is known as «Dia dos Namorados» (Lover's Day / Day of the Enamoured). As elsewhere, couples exchange gifts, but in some regions, women give a lenço de namorados («lovers' handkerchief»), which is usually embroidered with love motifs.[159]
Romania
[
]
In recent years, Romania has also started celebrating Valentine's Day. This has drawn backlash from several groups, institutions,[160] and nationalist organizations like Noua Dreaptǎ, who condemn Valentine's Day for being superficial, commercialist, and imported Western kitsch. In order to counter the perceived denaturation of national culture, Dragobete, a spring festival celebrated in parts of Southern Romania, has been rekindled after having been ignored during the Communist years as the traditional Romanian holiday for lovers. The holiday is named after a character from Romanian folklore who was supposed to be the son of Baba Dochia.[161] Its date used to vary depending on the geographical area, however nowadays it is commonly observed on February 24.[162]
Scandinavia
[
]
In Denmark and Norway, February 14 is known as Valentinsdag, and it is celebrated in much the same manner as in the United Kingdom.[163] In Sweden it is called Alla hjärtans dag («All Hearts' Day») and is not widely celebrated. A 2016 survey revealed that less than 50% of men and women were planning to buy presents for their partners.[164] The holiday has only been observed since the 1960s.[163]
Spain
[
]
In Spain, Valentine's Day is known as «San Valentín» and is celebrated the same way as in the rest of the West.
Valentine's Day in popular culture
[
]
Many films have been produced depicting various aspects of Valentine's Day, including A Charlie Brown Valentine (2002).
See also
[
]
Template:Portal
Dia dos Namorados

Sailor's valentine

Saint Valentine's Day Massacre

Singles Awareness Day

Steak and Blowjob Day

Valentine's Day (2010 film)

V-Day

, the global movement to end violence against women and girls.

Women's Memorial March

, held on Valentine's Day in Vancouver, British Columbia.
Notes
[
]
↑

Chambers 21st Century Dictionary, Revised ed., Allied Publishers, 2005

Template:ISBN

↑

Ansgar, 1986, Chaucer and the Cult of Saint valentine, pp. 46–58

↑

Template:Cite book

↑ 4.0 4.1

Template:Cite book

↑

Template:Cite book

↑

Template:Cite book

↑

Template:Cite book

↑

Template:Cite book

↑ 9.0 9.1 Leigh Eric Schmidt, «The Fashioning of a Modern Holiday: St. Valentine's Day, 1840–1870» Winterthur Portfolio 28.4 (Winter 1993), pp. 209–245.

↑

Template:Cite web

↑ 11.0 11.1

Template:Cite web

↑ 12.0 12.1

Template:Cite book

↑

Template:Cite web

↑

Henry Ansgar Kelly, in Chaucer and the Cult of Saint Valentine (Leiden: Brill) 1986, accounts for these and further local Saints Valentine (Ch. 6 «The Genoese Saint Valentine and the observances of May») in arguing that Chaucer had an established tradition in mind, and (pp. 79 ff.) linking the Valentine in question to Valentine, first bishop of Genoa, the only Saint Valentine honoured with a feast in springtime, the season indicated by Chaucer. Valentine of Genoa was treated by

Jacobus of Verazze

in his Chronicle of Genoa (Kelly p. 85).

↑

Oxford Dictionary of Saints, s.v. «Valentine»: «The

Acts

of both are unreliable, and the Bollandists assert that these two Valentines were in fact one and the same.»

↑

Matilda Webb, The Churches and Catacombs of Early Christian Rome, 2001, Sussex Academic Press.

↑

Template:Cite web

↑

Template:Cite book

↑

Alison Chapman. Patrons and Patron Saints in Early Modern English Literature. Routledge. pg. 122.

↑

Template:Cite web

↑ 21.0 21.1 21.2 21.3 Ansgar, 1986, pp. 58–63

Template:Webarchive

↑

Calendarium Romanum ex Decreto Sacrosancti Œcumenici Concilii Vaticani II Instauratum Auctoritate Pauli PP. VI Promulgatum (Typis Polyglottis Vaticanis, MCMLXIX), p. 117.

↑

Template:Cite web

↑

Coptic Orthodox Church – From Where Valentine's Day Comes From

Template:Webarchive

↑

Template:Cite web

↑

J.C. Cooper, Dictionary of Christianity, 2013, Routledge.
↑ 27.0 27.1 27.2 27.3 27.4 27.5 Oruch, Jack B., «St. Valentine, Chaucer, and Spring in February», Speculum, 56 (1981): 534–65. Oruch's survey of the literature finds no association between Valentine and romance prior to Chaucer. He concludes that Chaucer is likely to be «the original mythmaker in this instance.» Colfa.utsa.edu

Template:Webarchive

↑ 28.0 28.1 28.2

Ansgar, 1986, pp. 49–50

↑

Template:Cite book

↑

Legenda Aurea, «Saint Valentine»

Template:Webarchive

, catholic-forum.com.
↑ 31.0 31.1 Ansgar, 1986, p. 59. It originated in the 1797 edition of Kemmish's Annual, according to Frank Staff, The Valentine and Its Origins (London, 1969), p. 122. Ansgar was unable to corroborate this.

↑

Ruth Webb Lee, A History of Valentines, 1952, Studio Publications in association with Crowell.

↑

Template:Cite web

↑

John Foxe. Voices of the Martyrs. Bridge Logos Foundation. pg. 62.

↑

Shrine of St Valentine, Whitefriar Street Church

Template:Webarchive

↑ 36.0 36.1

David James Harkness, Legends and Lore: Southerns Indians Flowers Holidays, vol. XL, No. 2, April 1961, University of Tennessee Newsletter (bimonthly), p. 15.

↑ 37.0 37.1 37.2 Max L. Christensen, Heroes and Saints: More Stories of People Who Made a Difference, 1997, Westminster John Knox Press. Chapter «The First Valentine», p. 25

Template:ISBN

↑

Template:Cite book

↑

Frank Staff, The Valentine & Its Origins, 1969, Frederick A. Praeger.

↑

The Illustrated Library of the Natural Sciences, Volume 1, 1958, Simon and Schuster. p. 85 «The amethyst is the birthstone for February, and Saint Valentine is supposed to have worn an amethyst engraved with a figure of Cupid»

↑

Template:Cite book

↑

Template:Cite web

↑

Template:Cite web

↑ 44.0 44.1

Template:Cite news

↑

Template:Cite news

↑

Template:Cite book

↑ 47.0 47.1

Template:Cite book

↑

Jack B. Oruch, «St. Valentine, Chaucer, and Spring in February» Speculum 56.3 (July 1981:534–565)
↑ 49.0 49.1

Ansgar, 1976, pp. 60–61.

↑ 50.0 50.1

Template:Cite web

↑

Kelly, Henry Ansgar, Chaucer and the Cult of Saint Valentine (Brill Academic Publishers, 1997),

Template:ISBN

. Chapter 6 The Genoese St. Valentine, p. 80–83.

↑

Template:Cite news

↑

Template:Cite web

, wsu.edu

↑

Oruch 1981:539.

↑

Ansgar, 1986, Chapter 5, Grandson, Pardo and Gower, pp. 64–76

↑ 56.0 56.1

Ansgar, 1986, Chapter 8, The Hibermantino of the Mating Season, pp. 131–138

↑

Goodrich, Peter (1996) Law in the Courts of Love

↑

History Channel

Template:Webarchive

, historychannel.com.

↑

Davis, Norman. The Paston Letters: A Selection in Modern Spelling. Oxford University Press, 1983. pp. 233–5.

↑

Spenser, The Faery Queene iii, Canto 6, Stanza 6: on-line text

Template:Webarchive

↑

Gammer Gurton's Garland (London, 1784) in I. Opie and P. Opie, The Oxford Dictionary of Nursery Rhymes (Oxford University Press, 1951, 2nd ed., 1997), p. 375.

↑

Gammer Gurton's Garland , original 1810 version. Also 1810 version reprinted in 1866

Template:Webarchive

that uses more modern grammar like «should» instead of «shou'd».

↑

Template:Cite web

↑

«Valentine cards reveal Britain's relationship history»

Template:Webarchive

, Manchester Metropolitan University, Retrieved February 8, 2014
↑ 65.0 65.1

Template:Cite book

↑

Charles Panati (1987). Extraordinary origins of everyday things. p.57. Perennial Library, 1987

↑

Template:Cite web

↑

Template:Cite book

↑ 69.0 69.1 69.2

Template:Cite web

Template:Dead link

↑ 70.0 70.1

Template:Cite book

↑

Hobbies, Volume 52, Issues 7–12 p.18. Lightner Pub. Co., 1947
↑ 72.0 72.1

Template:Cite web

↑

Dean, Dorothy (1990) On the Collectible Trail p.90. Discovery Publications, 1990

↑

Quoted in Schmidt 1993:209.

↑

Gaskell, Elizabeth Cranford and Selected Short Stories p. 258. Wordsworth Editions, 2006.

↑

Template:Cite web

↑

Leigh Eric Schmidt, «The Commercialization of the calendar: American holidays and the culture of consumption, 1870–1930» Journal of American History 78.3 (December 1991) pp 890–98.
↑ 78.0 78.1

Template:Cite book

↑ 79.0 79.1

Template:Cite web

↑

Template:Cite web

↑

Template:Cite book

↑

Template:Cite news

↑ 83.0 83.1 Domingo, Ronnel. Among Asians, Filipinos dig Valentine's Day the most

Template:Webarchive

.

Philippine Daily Inquirer

, February 14, 2008. Retrieved February 21, 2008.

↑

Template:Cite journal

↑

Template:Cite web

↑

enamorado

Template:Webarchive

, Oxford Dictionaies. Retrieved: February 14, 2015.
↑ 87.0 87.1

Template:Cite book

↑

Template:Cite web

↑

Template:Cite web

↑

História do Dia dos Namorados no Brasil e no mundo, São Valentim, data 12 de junho, tradição

Template:Webarchive

suapesquisa.com – Datas Comemorativas

↑

The Psychology of Carnaval

Template:Webarchive

,

TIME Magazine

, February 14, 1969

↑

Template:Cite web

↑

Template:Cite web

↑

Template:Cite web

↑

Template:Cite web

↑

Template:Cite news

↑

Template:Cite news

↑

Template:Cite book

↑

Template:Cite web

↑ 100.0 100.1 100.2 100.3 100.4

Template:Cite web

↑

Template:Cite news

↑ 102.0 102.1 102.2

Template:Cite book

↑ 103.0 103.1

Template:Cite book

↑

Template:Cite book

↑ 105.0 105.1

Template:Cite journal

↑

Template:Cite journal

↑

Template:Cite book

↑

As quoted in 'India Today: Pot Pourri Generation' September 15 issue, 2005

↑

Template:Cite journal

↑

Template:Cite journal

↑

Template:Cite web

↑

Template:Cite news

↑

Template:Cite news

↑

Template:Cite web

↑

Iran shops banned from selling Valentine gifts

Template:Webarchive

, AFP January 2, 2010

↑

Template:Cite news

↑

Template:Cite news

↑

Template:Cite news

↑

Template:Cite news

↑

Template:Cite web

↑

Template:Cite news

, nitc.co.ir

↑

Template:Cite news

↑ 123.0 123.1

Template:Cite news

↑ 124.0 124.1

Template:Cite book

↑ 125.0 125.1 125.2 125.3

Template:Cite journal

↑ 126.0 126.1 126.2 126.3

Template:Cite journal

↑

Template:Cite book

↑

Template:Cite web

↑

Template:Cite news

↑

Template:Cite news

↑

Template:Cite news

↑

Template:Cite web

↑

Template:Cite news

↑

Template:Cite news

↑

Template:Cite news

↑

Template:Cite news

↑

Template:Cite news

↑

«Pakistan: Valentine's Day celebrations banned in Peshawar»

Template:Webarchive

February 13, 2016

↑

Islamabad High Court bans Valentine's day celebrations in public places

Template:Webarchive

↑

Template:Cite news

↑

Template:Cite news

↑

Template:Cite news

↑

Template:Cite news

↑ 144.0 144.1

Template:Cite news

↑

Template:Cite news

↑

Template:Cite web

↑

Template:Cite web

↑

Raialyoum.com, February 13, 2014.

↑

«Saudis Sentenced To Prison, Flogging For Celebrating Valentine's Day.»

Template:Webarchive

MEMRI.org. May 20, 2014.

↑

Template:Cite web

↑

Template:Cite web

, Centre Daily Times, February 14, 2009.

↑

Template:Cite news

↑ 153.0 153.1

Template:Cite web

↑

Template:Cite news

↑

Template:Cite web

↑

Template:Cite news

↑

Template:Cite news

↑

Template:Cite news

↑

Template:Cite book

↑

Template:Cite web

, cultura.ro

Template:In lang

↑

Template:Cite web

↑

Template:Cite news

↑ 163.0 163.1

Template:Cite web

↑

Template:Cite web
References
[
]
Bibliography
[
]
Template:Refbegin
Template:Refend
External links
[
]
Template:Commons category
Template:Wikiquote
Saint Valentine's Day – BBC
Who was St. Valentine? – St Peter Orthodox Christian Church

Template:Cite web

Template:Webarchive

– History.com, A&E Television Networks. Retrieved February 2, 2010.
History of Valentine's Day Christianity Today International. Retrieved February 2, 2010; «Then Again Maybe Don't Be My Valentine», Ted Olsen, 2000-01-02

Template:Cite web

Template:Cite web

The Tale of St. Valentine – St. Valentine And His Flowers
Cite error: <ref> tags exist for a group named «notes», but no corresponding <references group="notes"/> tag was found